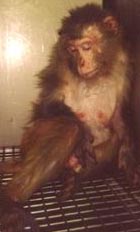 There are no words that can describe the sadness and hopelessness of vivisection any better than this disturbing image.

If you look closely, you will notice a number tatooed onto her chest.

This photograph was taken at Shamrock Farm, a supplier of primates to vivisection labs throughout the U.K. and Europe for over 40 years.

The U.K. animal rights group, ARC (Animal Rights Coalition) has protested continuously against Shamrock Farms and their hideous business.

On Friday, March 10th 2000, Shamrock Farm announced that they were closing down. They will close their premises as soon as they can "humanely rehome the monkeys they still have."

A victory for the animals.