Clint Chimpanzee Dies
Clint Chimpanzee #C0471, imprisoned at Yerkes Primate Center, died from heart failure in 2004. He was the son of Cheri and Walnut also at Yerkes. Siblings included Agatha, Betsey, Brandy, Gelb and others.
Duff, born in 1990, was Clint's son.
While at Yerkes, Clint was used in Lisa Parr's experiments.
In 2005 Clint's blood was used to sequence the Chimpanzee Genome .
Clint Chimpanzee (pictured below) was born June 6, 1980.
RIP Clint, you are finally safe.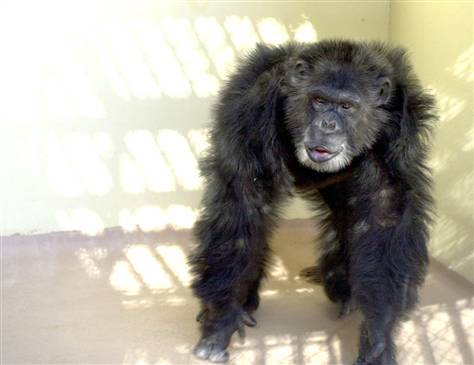 ---
---
Home Page | Our Mission | News
What Are Primate Freedom Tags | Order Tag
Primate Research Centers | Resources